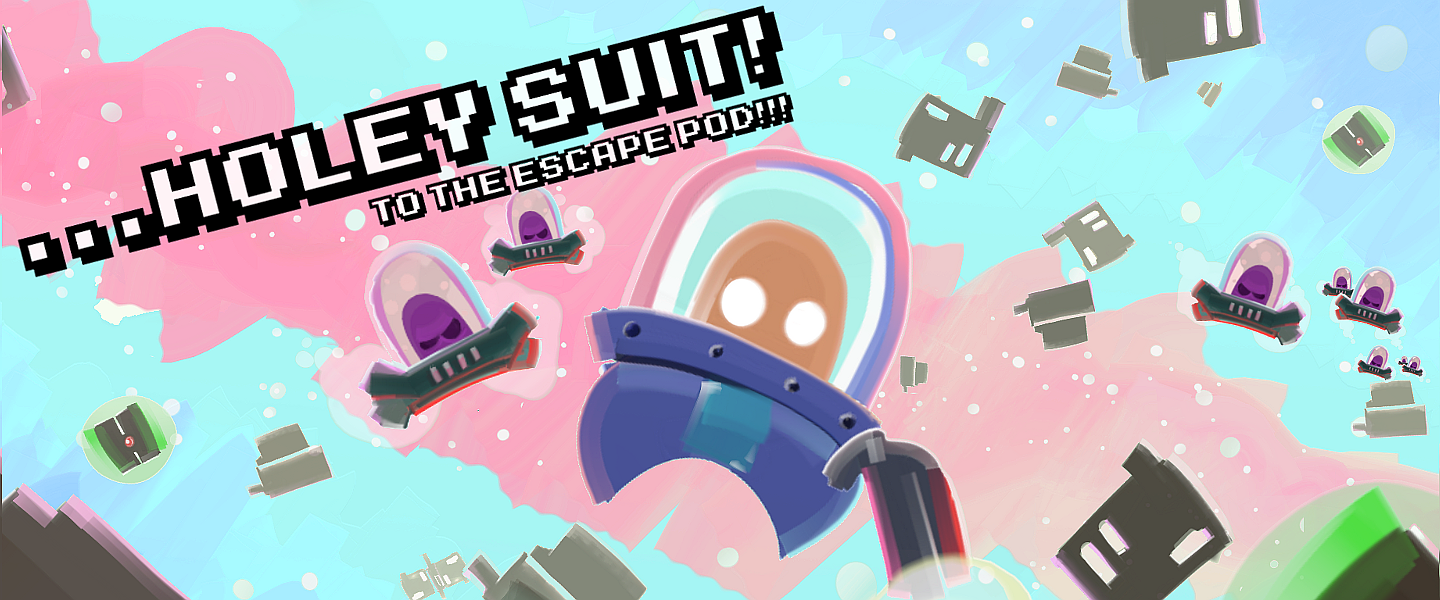 Holey Suit - to the Escape Pod!
A downloadable Holey Suit for Windows and Android
Holey Suit! is a physics based space survival game with quirky controls.

You are the only survivor after your ship was blown apart by a vicious alien attack. Your only hope: reach the escape pod before your oxygen runs out. Follow the pointer on your HUD to the pod and avoid the aliens patrolling the wreckage!


In space you have only one way to move: click to shoot & propel yourself backwards.
Right click will use your suit's propeller; Left click will shoot whatever weapon you have equipped. Avoid hitting debris as this makes you bounce and lose momentum; every second counts!
You HUD indicates your oxygen and energy levels. Energy slowly regenerates; Oxygen constantly depletes. Pointers indicate the nearest equipment crates & oxygen bottles. The largest pointer is directed towards the escape pod, as well as indicates the distance in meters to reach it. Note there is an in-game tutorial to get familiar with the mechanics.
There are several difficulty modes. Classic is the casual mode, Hardcore Henry and Oxygen Not Included are aimed at hardcore players.


Pick from twelve distinct characters, each promoting a different game style.
Randomly generated levels for unlimited replayability.
Ten weapons to choose from, from simple lasers to deadly tracker missiles!
Three difficulty modes for added challenge: easy, hardcore or against the clock.
Rescue and equip survivors, create your own little squad & fight aliens!
Unlocks & XP: play your way to the best weapons and characters in the game.
Minimalist, pixel-art graphics. Don't be fooled, these cute little aliens are deadly!

This is a free game built as a hobby project. How to support the game if you like it?Leave comments or follow @HotchPotchGames on Twitter!
I will be posting regular dev blogs on the game & other projects. Stay tuned + check hotchpotch.games for updates.
| | |
| --- | --- |
| Status | Released |
| Platforms | Windows, Android |
| Rating | |
| Author | Mitron |
| Genre | Shooter, Survival |
| Tags | 2D, Arcade, Minimalist, Physics, Pixel Art, Singleplayer, Space, Stealth, upgrades |
| Asset license | Creative Commons Attribution_NonCommercial_NoDerivatives v4.0 International |
| Average session | A few seconds |
| Languages | English |
| Inputs | Mouse, Touchscreen |
| Accessibility | Color-blind friendly, High-contrast, One button |
| Links | Blog, Twitter |
Download
Click download now to get access to the following files:
Holey suit - manual.pdf
395 kB
Holey Suit - Menu.mp3
4 MB
Holey Suit - In Space.mp3
6 MB
Holey Suit - The Assault.mp3
3 MB
Comments
Log in with itch.io to leave a comment.
Aha! This was an absolutely delightful Playthrough! - Those pesky aliens are right buggers ;)
Thank you for creating this :D
Thanks for the video - that was a really entertaining watch!!!
One piece of advice: bluetooth headset! ;) Just worried you might knock your computer off one day :)
You're very welcome!
Hmm...fortunately it's a 10m long cable so I haven't managed to snag it yet - but there's always a possibility! (I did actually impact destroy my previous monitor by catching my camera cable under the base - was such a sad day :'( ) ;-)
New update! New content ! I was looking forward to the music and it suits perfectly great update! Cant wait to see future updates of the game!
I really enjoyed this (despite my screaming and profanities)!
I would echo Rob's suggestion below about making it a level-based game rather than just the three levels of difficulty you have right now, but other than that this is really well done! I'm looking forward to diving back in and unlocking some of the other characters, and also seeing what you come up with next =)
Keep up the awesome work!
Thanks a bunch! Really enjoyed watching your play through - definitely a lot of screaming :)
Point taken on board with the level based progression. I have added some extra feature to the game this week and loaded a new build today, with some adjustments on the hardcore mode. Respect to you for persevering with it so much, it definitely wasn't balanced :)
More goodies to come, so enjoy the new build and stay tuned!
This was pretty fun! I was pretty bad at it but not as bad as I was at Cowmets.
I like the whole idea and gameplay and I think it will be even better when you finish out the already planned additions. Little details like sound effects etc will make a huge impact on the game.

I wouldn't mind seeing a game mode with more of a progression of levels, almost like a campaign mode where levels start out easy (less debris, aliens, etc) and get progressively more difficult. But I wouldn't say it's something it needs, just an idea.

my playthrough:

This was a fun watch, thanks a lot for the insightful feedback, much appreciated! There's definitely some balancing to do. The level idea is interesting, my intention was to re-shape the tutorial in the final version so it explains the mechanics as well as why the ship exploded, but I could push this further and have some sort of a story mode with several levels! TBC ;)
This is a cool little game with a great set of mechanics. Had a "blast" with some of the weapons. Played some more after recording and got to try out some of the other characters. The Botanist was particularly fun as it emphasized not crashing into everything.
I'd like to see more depth in the game as time goes on as just making it to the escape pod is fairly easy, but that doesn't take anything away from my enjoyment of the current build. Although the music wasn't in this build, I did add it into the video and really enjoyed it. Aside from that, it was a really fun and bug-free game.
Haha thanks, glad you enjoyed it! Still working on the balance but I take your point on board, need to add some more juice to the game. Leave that with me, I'll ping you when things are more fleshed out ;). And thanks for editing in the audio!
I really enjoyed the game. I can imagine this would be very fun to do speedruns of. I didn't find any bugs do I don't have any complaints.
Glad you enjoyed it, and thanks for the video this was fun to watch! The "Oxygen Not Included" mode should be a good one for speed runs - in that mode you only have the O2 you start with and no chance to refill, so you're against the clock ;)
Will keep you posted as I had new stuff in!
This is a fantastic little physics based adventure! I love the momentum, the character
sprites and all the different challenges the characters have. Also Thumper for life!!

Holey Suity lets play showcase! Loving the game thank you for much for the opportunity.
Love it! Thanks a bunch for trying the game out. And yes I haven't implemented the music & sound FX yet. Soundtrack is available for download, I just need to code it in!
Hello Mitron,
Thank you again for the opportunity. Glad you enjoyed the showcase I really love the game you have a lot of potential with it. Keep me posted please with any updates I would love to do like a trail showcase of every single little thing you add to the game and do more videos than. If you are interested in that let me know you.
I look forward to future updates and cant wait to see the game out of pre -alpha its great.
Many thanks again,

MbG